We are a small kennel located about an hour southeast of Columbus, Ohio. Our primary interests revolve around field trials, hunt tests, and hunting with our dogs, but we also compete and participate in conformation, agility and obedience. Our dogs and puppies have been at the forefront of everything we do at Vanguard Vizslas. They excel at hunting upland game, winning and placing nationally or just hanging out with the family. We are members of the National Vizsla Association, Vizsla Club of Greater Cleveland, Miami Valley Vizsla Club, Vizsla Club of Illinois and Conestoga Vizsla Club as well as the Columbus All-Breed Training Club.
Ruth Rogers
Ruth works as an RN in a children's burn unit with one of the local Hospitals. She has previously served on the board of directors for Miami Valley Vizsla Club, and supports Columbus All-Breed Training club with their agility and obedience events. She has always had an interest in animals from an early age, participating in 4H events from grade school thru High school. During HS she worked at a local stable giving riding lessons and working with the horses, gaining a lot of the knowledge we lean on when it comes to working our current horses. Because of her schedule with work, Ruth when she can will fill in as secretary for hunt test or field trials.
Matt Rogers
Matt works in IT as a programmer developing mapping and JavaScript applications. When not at work he's usually working dogs every night, flying radio control helicoptors or wrenching on his diesel truck. He developed his love for the outdoors from his father and grandfather, whom originally introduced him to hunting and working bird dogs. In addition, he has served as Vice President for the Vizsla Club of Greater Cleveland from 2004 to 2014 and is a licensed AKC field trial judge. Matt has also served in various duties as chairman or secretary for AKC field trials, hunt tests or American field stakes. More recently serving as the 2006-2008 stake manager for the NVA National Quail Championship while it was located at Hickman Ranch grounds in southern Iowa.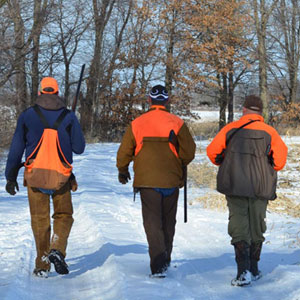 Our activities and events take us all over the country and we've been fortunate to meet some wonderful folks along the way, many of which, have brought us lifelong friendships and make enjoying everything that this breed has to offer even better. Should you be interested in joining any of these clubs or have questions about them please contact us for further information. Or if your new or just have questions about the breed, field trialing, competing with your Vizsla don't hesitate to contact us. We are always interested in getting you more involved with your Vizsla.